First Pictures Taken With an Apple iPhone
Lots of questions were answered with the introduction of Apple's iPhone back in January, but an important one still remains: how do the photos look like? I've been searching for "taken with an apple iphone" on Google for well over a month now (not constantly!!) and I guess it was worth it.
First pictures showed up on Flickr the other day and I can say they look pretty awesome for a 2 megapixel camera (at least one of the two). In fact, the second one looks like crap.
Here's the EXIF data from one of the images:
Camera: Apple iPhone
Aperture: f/2.8
Orientation: Rotated 90 degrees clockwise
Date and Time: 2007:04:21 10:23:45
Color Space: sRGB
Tag::EXIF::0xA500: 11/5
Compression: JPEG
Image Width: 1600 pixels
Image Height: 1200 pixels
We also Googled the Flickr user, but we still have no idea if she's an Apple employee or just some lucky guy not. Either way, check out the photos below:
Update: Both pictures have been taken down from Flickr. First they were marked as private, then deleted. It also turns out that the person who uploaded the pictures is an Apple employee. According to a commenter, one of the pictures was taken in a
steakhouse called Alexanders', in Cupertino, CA, just three miles from the Apple HQ.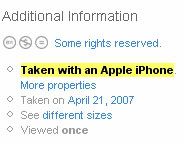 Via Flickr